Turn your own Photos to Custom Jigsaw Puzzles
Choose between different sizes and shapes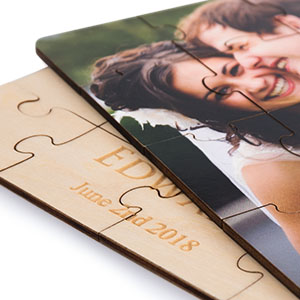 Create a personalized jigsaw puzzle for puzzle lovers. Pick a photo and have them printed on to wood in a selection of sizes. The wooden material has a rustic feel and is sturdy.
19.75 x 28 inch

as low as @currencysign35.99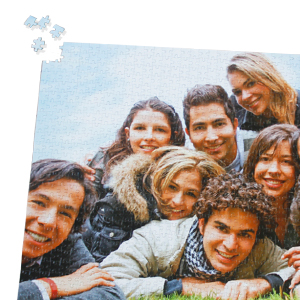 This 1000 piece set is a popular puzzle type and size. Ideal for landscape and portrait images.
18 x 24 inch

as low as @currencysign11.99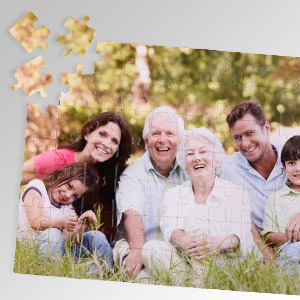 Choose a large puzzle with 70 or 500 pieces making this jigsaw a suitable choice for kids as well as adults. Customize your design and choose number of pieces.
12 x 16.5 inch

as low as @currencysign7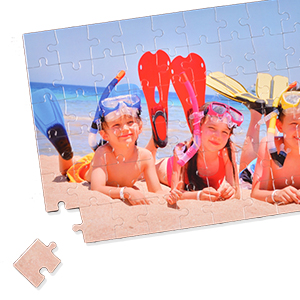 You can choose from 54 or 285 pieces for this standard puzzle size. It makes a wonderful personalized gift for friends and family.
5 x 7 inch

as low as @currencysign1.55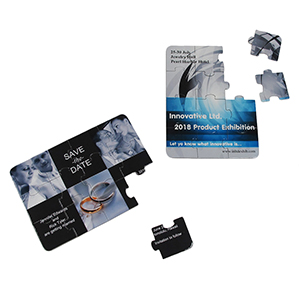 Custom invitation puzzles are perfect as an invite with a gimmick, making sure your recipients will notice your event whether it's a wedding or corporate.
Heart Puzzles

as low as @currencysign6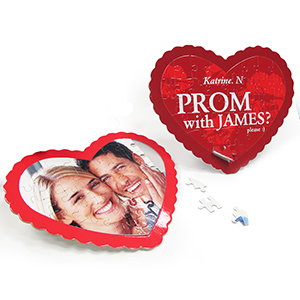 A collection of puzzles that form a heart shape when pieced together. Ideal for birthdays, anniversaries or as a Valentine's Day gift.
8 x 10 inch

as low as @currencysign4.51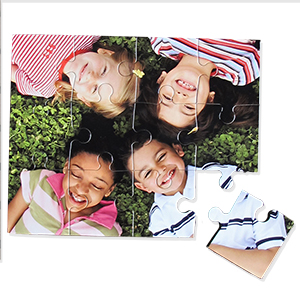 8x 10 inch puzzles are perfect for business promotions or for kids who are just getting into jigsaw puzzles. Start them off on this size before moving up the scale.
Round Puzzles

as low as @currencysign1.48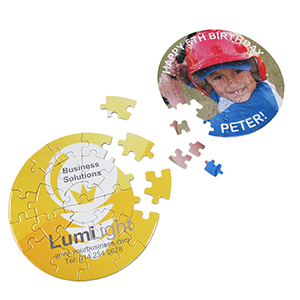 Send round puzzles bearing your company logo and details to your client list or to small kids who prefer special shapes.
Tray Puzzles

as low as @currencysign4.51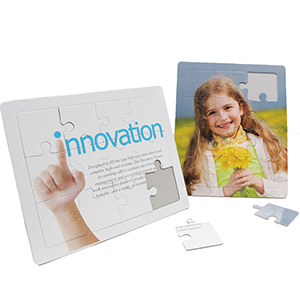 Tray puzzles allow you to keep your puzzles intact after completion so that you can display it at home or on the office desk.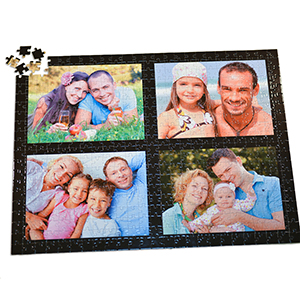 Display multiple photos in one puzzle! We have a range of style templates to choose from.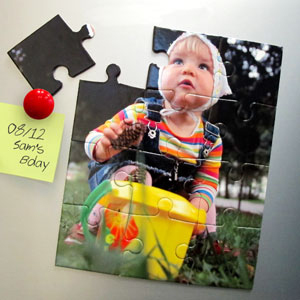 These customized magnetic puzzles will surely look handsome on your fridge and freezer.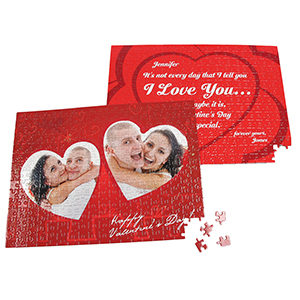 Just like having two puzzles in one, double sided puzzles are a refreshing variation on the classic jigsaw puzzle.
or choose from our categorized designs to start personalizing:
Make your own custom photo puzzles using our templates on our online jigsaw maker
Remember the days when you used to get together with your friends and family to put the pieces of a jigsaw puzzle together? Now get ready for more fun. At PrinterStudio.com you can make your own photos to puzzles on our online jigsaw maker in 3 easy steps in the comfort of your own home. Upload your favorite family and friends photos, or of you and your partner, your holiday shots or even your wedding photos to make a special wedding gift. Drag the picture onto our custom jigsaw maker and preview how your photo puzzle will look before you place your order. Order any quantity (the more you order, the cheaper it gets) and give them as gifts on special occasions such as birthdays, reunions, anniversaries or even as a gift to treat yourself.
Our personalized jigsaw puzzles come in a large range of designs both vertical and horizontal. You could opt to add a few more photos into a puzzle by choosing our entensive design collection for collage puzzles. And for a little bit more, you can turn your puzzle into a magnetic photo puzzle for even more fun! You could also choose our heart-shaped puzzle which comes with a free frame to mount your puzzle on. Add a photo of you and your wife or husband, girlfriend or boyfriend and send it them on any occasion worthy of a special gift.
All puzzle designs can be customized further by adding your own personal message. You have the choice of 12 piece, 54 piece, 100 piece or 285 piece puzzles so both kids and adults will be able to enjoy playing this fun and educational game. Scan in a picture of your kids drawings onto your computer and upload it onto our online maker to make a great kids puzzles gift. You don't need to worry about quality because when it comes to that, we come second to none, using industry standard industrial production printers printing your photo onto professional jigsaw template boards , making sure your photo puzzle will last the test of time for many years to come. What's more, all our photo puzzles (excluding heart puzzles) comes in a personalized gift box bearing your photo and design on the lid. A perfect gift set for anyone.
As a latest addition to our growing range of personalized puzzles sizes, we have added a small 5"x7" puzzle with 12 pieces. These are great for kids or as a party invitation card which you can send to your party guests to assemble to find out where your party is. The best thing is that the price starts as low as $1.55 and comes flat-packed. Who says meaningful gifts can't be cheap? So get started now and use our jigsaw puzzle templates to turn your photos to puzzles.